Greetings from Faith to Action Network!
We are thrilled to present our quarterly newsletter for the 2nd quarter of 2023.
In this second quarter, our partners and members have engaged in a series of exciting activities and events with significant impact across the Network and in the communities, we serve. Working collaboratively, we have strived to advance crucial causes in our mandate areas: family health and wellbeing, gender justice, women's rights, and the development of just, peaceful, and inclusive communities.
Our members have remained remarkably dedicated. They have remained unwavering in their efforts to foster peace by creating safe spaces for intra and inter-faith dialogues within their communities. They have been actively involved in transforming positive masculinities through community dialogues, a vital step towards a more equitable society. The members have been instrumental in promoting health and wellbeing, ensuring the well-being of individuals and families. Their relentless advocacy has pushed for the inclusion of faith actors in policy-making spaces, amplifying our collective voice for positive change.
We are delighted to celebrate the impressive accomplishments of our members and partners from April to June, 2023 in this publication. On behalf of the secretariat team, we extend our sincere gratitude to all our supporters, members, and partners for their dedication to the Network's mission. Together, we continue to make a difference in the lives of countless individuals and communities.
Happy Reading!
Peter Munene
CEO, Faith to Action Network
Announcement : Application for the Interreligious Convention 2023
The Interreligious Convention 2023 will be held in Johannesburg, South Africa, from the 4th to the 6th of December 2023, with the theme: Faith change-makers: Affirming human dignity, justice, and freedom for all. We encourage you to submit your abstracts online by August 1st at http://conferences.faithtoactionetwork.org/abstract-application/. More information can be found at http://conferences.faithtoactionetwork.org/ Details are provided in the poster below.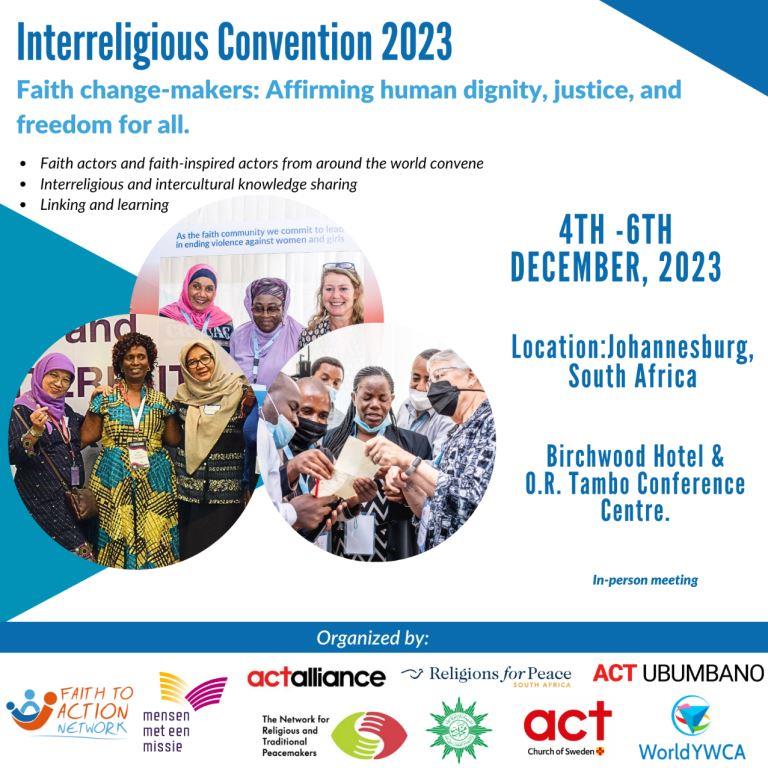 Promoting Gender Equality and Women's Rights in Palestine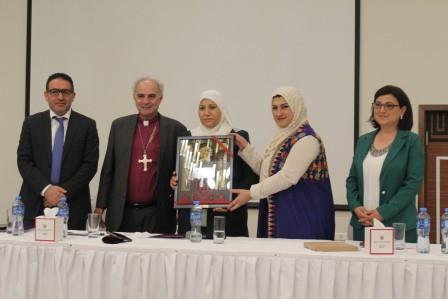 In Palestine, Faith to Action Network in collaboration with the Evangelical Lutheran Church of Jordan and the Holy Land (ELCJHL) is working to promote gender equality and women's rights. ELCJHL Gender Justice Ministry works to transform the lives of women and girls within the church helping them realize their full potential.
The ELCJHL Gender Justice Ministry conducted a safe dialogue session for female and male judges, as well as significant figures in Palestinian society, on June 5, 2023. The session attracted a broad audience, including officials from numerous political entities, legal professionals, gender experts, authors, and human rights activists. The dialogue featured a series of educational and interesting speeches by leading experts in the field, who shared vital insights on the legal, sociopolitical, and cultural components of gender inequality and violence against women in Palestinian culture.
Bishop Dr. Sani Ibrahim Azar, the Bishop of the Evangelical Lutheran Church in Jordan and the Holy Land, gave the opening statement, highlighting the necessity of promoting gender equality and acknowledging women's critical role in all fields. The bishop emphasized the need of supporting cultural and literary activities that help to change societal norms and advance women's roles. He reiterated the importance of ongoing collaboration and partnerships in achieving equality and social justice goals.
The dialogue also braced the launch of a book, titled 'Similar Stories: Wives: The H of Heaven in Hell' authored by Judge Somoud Damiri. The book is a milestone outcome of the ELCJHL gender justice conferences, where, participants recommended a systematic approach to document experiences, struggles, and resilience Palestinian women confront in their every day to push-back societal inequalities. The book emphasizes the need to elevate neglected voices and highlights women's stories of injustice and persecution.
The book has received very high-level commendations. Dr. Amal Hammad, Palestine's Minister of Women's Affairs, applauded the book and underlined the significance of collective action to alleviate gender inequities. The book, Dr Amal argued, is one of the major steps towards raising awareness and initiating change. Dr. Al-Mutawakkil Taha, a Palestinian writer and poet, expressed gratitude for the efforts taken to document these stories and applauded the book's goal to build communal consciousness and inspire constructive conversation, self-analysis, and critical thinking for growth and good change.
In her closing remarks, Judge Somoud Damiri thanked everyone in attendance and stated her intention of retelling the true tales of women she met during her judicial career. She stressed the importance of shedding light on the experiences of mistreated women who have been denied rights such as inheritance rights, honor killings, or custody of their children, among other things. She said:
Meaningful nation-building cannot take place when women are afraid and anxious. I will continue effecting fundamental social change that secures equality and justice for Palestinian women by raising society awareness and combating injustice and prejudice."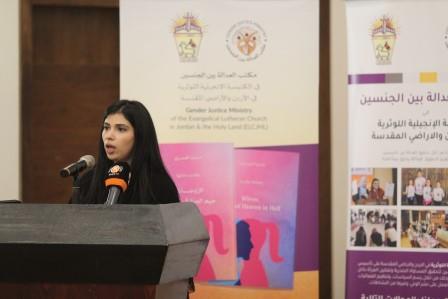 Ranan Issa Abu Shanab, Gender Justice Program Manager at ELCJHL, concluded the event by thanking the audience and speakers for their participation and significant contributions. She hoped that the book and the talks at the ceremony would raise awareness of issues concerning equality and social justice. She also underlined the significance of continuing to work together to effect positive change and create a more cooperative, just, and progressive society for all.
ELCJHL works with Faith to Action Network on the Young Women for Awareness, Agency, Advocacy, and Accountability (YW4A) project. The goal of YW4A is to alter social norms and practices of community actors and religious organizations to support young women's rights to dignity, bodily integrity, and equal participation in decision-making.
Promoting Freedom of Religion or Belief through Environmental Preservation in Indonesia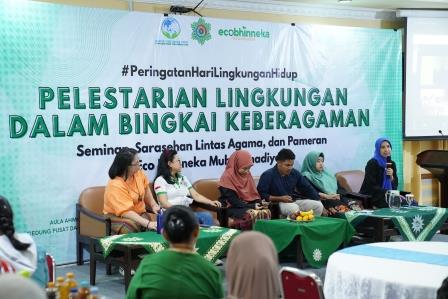 In Indonesia, our founding member, Muhammadiyah, fosters inter-religious cooperation by responding to climate change. Muhammadiyah initiated a program aimed to sustain harmony by inviting interfaith actors to work together to preserve the environment. The program known as "Eco Bhinneka"; "Eco" comes from the word ecology which means the interaction between living things with other living things and also with the surrounding environment. Meanwhile, "Bhinneka" comes from the values of the Indonesian society, namely Bhinneka Tunggal Ika, which means, although we are different, we are still united.
On World Environment Day 2023, Muhammadiyah conducted a series of seminars, inter-religious workshops, and an exhibition themed "Environmental Preservation in the Frame of Diversity" with 270 individuals in attendance. Eco Bhinneka organized the event, which was accessible to the public, in partnership with the Environmental Council of the Central Board of Muhammadiyah.
During the celebration, they released a book named "Merawat Kerukunan, Melestarikan Lingkungan," which translates as "Sustaining Harmony, Nurturing Nature" and was published by Eco Bhinneka and the Environmental Council of the Muhammadiyah Central Board. The book's goal is to educate the public about the role of religious leaders and people of faith in mitigating environmental damage through interfaith initiatives.
In his opening remarks, Anwar Abbas, Chairman of the Central Board of Muhammadiyah and in charge of the Environment, highlighted his concerns about environmental damage. "Climate change is a serious threat to humanity," Anwar said.
The earth is warming, the ice at the north and south poles will melt, the northern coast of Java is frequently hit by robs, this is a humanitarian disaster, everyone will feel the effects regardless of religious or ethnic background, and I can't imagine what the next generation will experience.
He advised the audience to read the book because it provides a way for people to come together, regardless of religion, nationality, or culture, to prevent global warming, which he described as a threat to all of us.
Interfaith leaders and environmental activists engaged in a panel discussion with the theme: Environmental Preservation in a Diversity Frame. Azrul Tanjung, Chairman of Muhammadiyah's Central Board's Environment Council, called for joint efforts to prevent environmental degradation, beginning with modest actions that can be done every day.
We have to start doing small things and transmitting them," he remarked. Because one modest step will save the planet. For example, we must begin sorting rubbish in our own houses, carrying tumblers wherever we go, and using goods that we can reuse.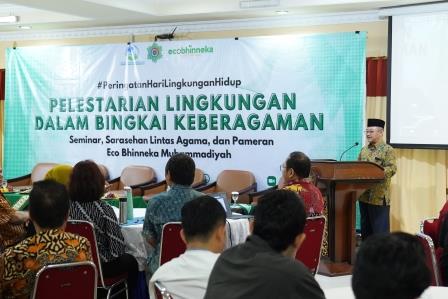 Prof. Abdul Mu'ti, General Secretary of the Muhammadiyah Central Executive, spoke about the program's success, saying, "When many people talk about interfaith dialogue, Eco Bhinneka takes the risk of engaging in what is known as interfaith cooperation." Interfaith cooperation is becoming a reality, with religious individuals not only conversing but actively cooperating to address common problems." They have successfully organized and involved the youth through the initiative, which is a huge milestone. He continued by noting that EcoBhineka's dream is a peaceful Indonesia, and that Indonesia's sustainable nature must be part of the collective commitment, as a form of their determination in following their distinct religions.
Finally, Mutiara Pasaribu, the country coordinator for the Joint Initiative for Strategic Religious Action (JISRA), expressed her appreciation in Muhammadiyah's foresight in merging harmony issues with environmental challenges. According to her, there has been no collaboration between the interfaith program and environmental activities in Indonesia and the environmental approach by Muhammadiyah packages efforts to maintain harmony into things that the public can easily digest. Mutiara anticipated that the event would serve as a springboard for religious people to establish connections of brotherhood by associating with one another in the sake of environmental protection.
The Eco Bhinneka program is a form of Muhammadiyah support for the Joint Initiative for Strategic Religious Action (JISRA). This program is implemented in 4 areas: Pontianak (West Kalimantan), Ternate (North Maluku), Surakarta (Central Java), and Banyuwangi (East Java). JISRA programme aims for peaceful and just societies where all enjoy Freedom of Religion and Belief. JISRA stimulates positive forces within and between religious communities for more peaceful and inclusive societies by leveraging the constructive role of religious actors. The programme addresses harmful norms and narratives within religious communities, stimulates cooperation between religions and shows that different religious traditions can come together in their vision for a better and fairer society. Learn more about Eco Bhinneka here: https://ecobhinnekamuhammadiyah.org/
Increase Financial Sustainability of NGOs in Bujumbura and Rwanda

People across the globe face various barriers to sustainable development including poverty, climate change, environmental degradation, and limited access to financial resources. Faith to Action Network and our partner, Brot für die Welt, recognize the importance of strengthening local organizations' capacity so that they can effectively mobilize the resources needed to address challenges, sustain work on the ground, and contribute to the long-term development of their communities.
Many organizations, especially those operating in economically challenged regions, constantly grapple with access to resources. As part of our continued commitment to sustainable development, Faith to Action Network, in collaboration with our partner, Brot für die Welt, held an innovative capacity-building workshop targeting thirty-five participants in Bujumbura, Burundi, in the month of May. The workshop sought to empower partners on resource mobilization drawing-upon the principles of relevance, credibility, relationships, visibility, and project development.
Each of the 35 participants, together with the two facilitators, brainstormed and shared their real-world experiences in a blended interactive learning which combined introductory presentation, group discussions, and practical activities. Participants gained new knowledge and skills in resource mobilization and one of them shared their experience as below: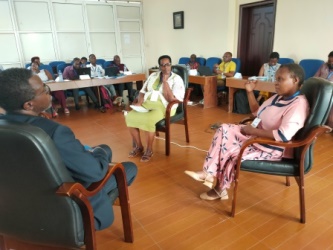 "Effective resource mobilization is more than just fundraising. It's an opportunity to build strong partnerships, share our vision and harness the power of collaboration to transform our communities." – Resource building workshop participant.
Additionally, participants collectively co-created resource mobilization plans tailored to their organizations' requirements through group work and discussion. Finally, the program helped the participants to strengthen their professional networks by developing new partnerships and connecting with other actors involved in sustainable development.
Faith Leaders for Adolescent Sexual and Reproductive Health and Rights (ASRHR)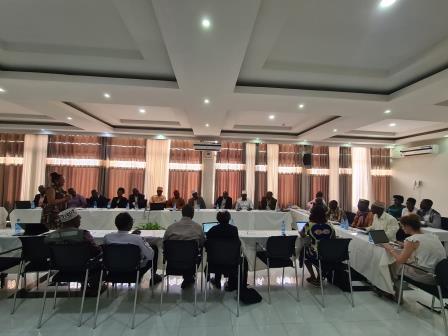 Faith to Action Network recognizes Adolescent Sexual and Reproductive Health and Rights (ASRHR) is a crucial aspect that can improve the health outcomes of adolescents. ASRHR concerns are still sensitive in many aspects, associated frequently stigmatized in many nations, including those where Faith to Action Network works. As a network, we acknowledge that religious leaders play a significant role in advancing ASRHR, and their agency to promote faith sensitive policies should be effectively harnessed and leveraged.
In this regard, Faith to Action Network, on May 9 and 10, 2023, at the KCC in Bujumbura, hosted a workshop, bringing together 25 faith leaders from various religious backgrounds. The workshop sought to arm religious leaders with advocacy resources to help them effectively leverage their influence to push for ASRHR.
During the workshop, faith leaders reflected on the national and regional existing advocacy frameworks juxtaposed on their role and responsibilities in promoting ASRHR. The faith leaders revisited a faith-based methodology of discussing ASRHR, which helped them to reflect on their various roles as men and women of influence within the communities using the Holy Books to address issues and needs arisen from the grassroots.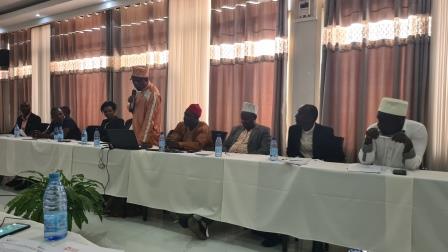 They debated how to reconcile what the scriptures say versus the reality and how to ensure that communities, especially leadership, understand the significance of health and a holistic approach to providing life in plenty. The faith leaders agreed that urging senior leadership to provide safe spaces for increased discussion and education on women's and girls' health for long-term community development is an essential first step.
The religion leaders also concurred there are three key interreligious modalities that may be used to advance ASRHR: effective education, collaboration, and care. These modalities can be used to capitalize on opportunities like the audience, credibility, and already-existing strategic partnerships within the faith communities. Additionally, in order to have a better influence on the promotion of adolescents' sexual and reproductive health and rights, it is crucial to comprehend the cultural and religious variations that predominate in communities.
The faith leaders present at the workshop described the workshop as illuminating and beneficial, and appealed for more learning on SRHR to enable them to address their followers effectively based on scientific understanding as this is one of the gaps in their approach.
By utilizing the diverse constituencies and communication channels, such as social media, mass media, and faith media, opinion leaders including the faith leaders trained during this workshop, will be able to position ASRH) on the public agenda through the work of Faith to Action Network. This is in response to the Solutions for Supporting Healthy Adolescents and Rights Protection (SHARP) initiative, which is being carried out in Kenya, Burundi, the Democratic Republic of the Congo, Zambia, Rwanda, and Tanzania with funded by the European Union. With a focus on girls and other vulnerable adolescents, the initiative aims to make sure that duty-bearers adopt, develop, enhance, and put into practice (sub)national and regional policies and budgets that advance ASRHR.
Faith to Action Network at the Christian Connections International Health Conference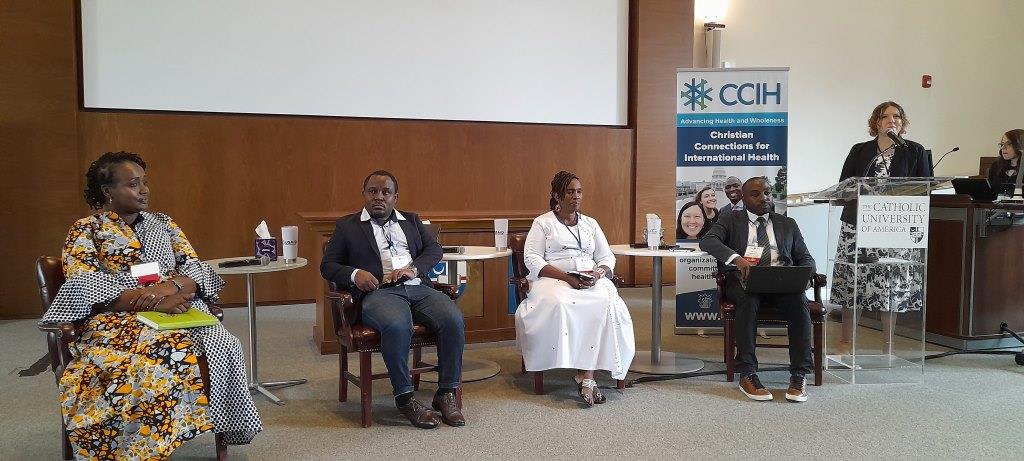 We are delighted to share with you the exciting and enriching experience of Faith to Action Network at the 2023 Christian Connections for International Health (CCIH) conference, which took place from 5th to 7th June in the vibrant city of Washington DC. This conference gathered together 180 delegates from 29 countries, all united under the inspiring theme, "Hope in Health: Your Labor is not in Vain." This theme served as a powerful reminder of the profound connection between health and hope, emphasizing that where there is health, hope flourishes.
Faith to Action Network was represented by two staff members of Faith to Action Network, External Relations Manager, Celine Bankumuhari and Programme Manager, Judy Amoke. Together, they played pivotal roles in shining a spotlight on our organization's unwavering commitment to interfaith engagement in matters of family health and well-being.
For us, this conference is more than just an event; it's a transformative journey. We are here to sow the seeds of hope, nurture compassion, and cultivate interfaith collaborations that transcend borders and unite hearts in the pursuit of holistic health,
expressed Ms. Bankumuhari.
The conference served as a hub of connections, a place where Faith to Action Network seeded partnerships, and nurtured collaborative possibilities. Forging new alliances became second nature as the organization's reputation as a trusted interfaith partner soared.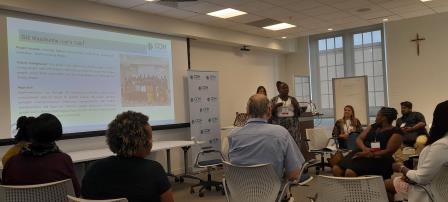 "Our vision is a world where all families can flourish in health, dignity, and hope," emphasized Ms. Amoke. "The networking opportunities here allow us to breathe life into this vision, to work hand in hand with diverse communities and embrace the beauty of unity in diversity".
During the conference, we organized two impactful panel presentations. The first panel was: "Let's talk! Interfaith and Intergenerational Partnerships for Adolescent and Youth Sexual and Reproductive Health and Rights." This panel attracted 50-70 delegates, where we explored transformational reflections and compassionate interpretations of engaging adolescents and young people within faith organizations. The second panel was:
South Kivu's Faith Organizations Form Interreligious Partnership to Advance Family Health and Wellbeing.
In this session, we shed light on the interfaith partnership in South Kivu, showcasing the concrete actions taken to address family health challenges in the region. During these two panel discussions, we emphasized the importance of conversations between young people and religious leaders/parents, the need to strengthen SRHR interventions with adequate support and resources, and the remarkable potential of youth-led innovation in addressing SRHR issues within faith communities.
Additionally, we highlighted that interfaith dialogues on Family Planning (FP) can begin with entry topics such as Gender-Based Violence (GBV) or teenage pregnancies—issues that affect faith communities. By combining theological, medical, and socio-demographic arguments, we can foster rich and transformational conversations during these dialogues. Tailoring messages to context was also underscored as a significant approach to engaging with senior leadership and the wider community.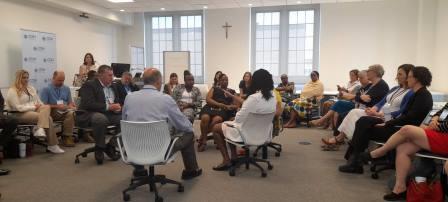 Through participating in other plenary sessions and side events, Faith to Action Network embraced the opportunity to learn, share, and grow. Themes such as failure and conflict in program delivery, local perspectives in development sector efficacy, and compassionate inclusion for vulnerable groups enriched their understanding of the global health landscape as noted by Ms. Amoke:
"Our journey is not just about attending sessions and sharing knowledge. It's about embracing the challenges, learning from failures, and finding strength in unity. Together, we find the courage to tread uncharted territories and make a difference."
The 2023 CCIH conference has left a lasting mark on Faith to Action Network, inspiring us to continue our unwavering commitment to interfaith collaboration in family health and well-being. The connections we made, the knowledge we gained, and the experiences we shared have invigorated our efforts to make a positive difference in the lives of families worldwide.
We extend our heartfelt gratitude to all those who contributed to the success of our engagements at the conference and look forward to advancing our shared mission of creating healthier and more hopeful communities around the globe. Together, we reaffirm that with health, hope thrives, and together, our labor is not in vain.
NEWS!!!
We have been working on a new look and feel of the Faith to Action Network. Click here to see: https://faithtoactionetwork.org/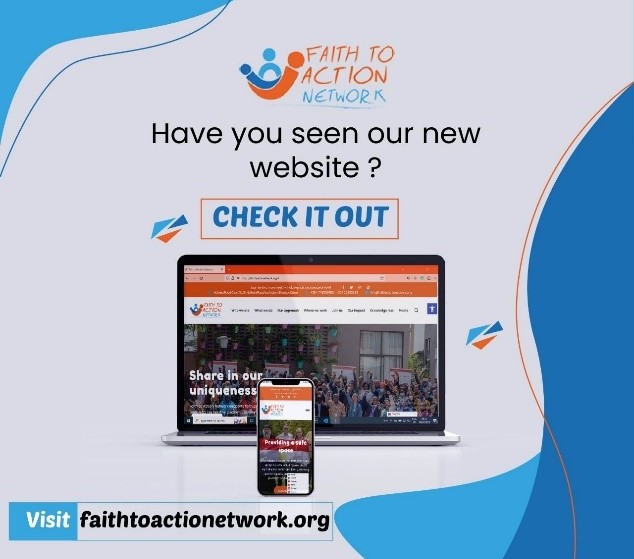 Upcoming Events
4th – 5th December 2023: SAVE THE DATE! for the Interreligious Convention 2023: Faith actors and faith-inspired actors from around the world convene; Interreligious and intercultural knowledge sharing and linking and learning. We call upon you to submit your abstracts online submission: by 1st August through this link: http://conferences.faithtoactionetwork.org/abstract-application/. Visit the convention website for more details: http://conferences.faithtoactionetwork.org/