Who is ELCJHL?
The Evangelical Lutheran Church in Jordan and the Holy Land (ELCJHL) was founded in the late 1800s with a mission to embody Christ's love by promoting justice, reconciliation, and love. ELCJHL has presence in six locations spread across Ramallah, Beit Sahour, Beit Jala, Bethlehem, Jerusalem, and Amman, Jordan.
In addition to its religious services, ELCJHL offers quality education including environmental education through its four schools, and runs centers including Environmental Educational Center, Al-Mahaba kindergarten, and Martin Luther Community Development center. The church has a thriving Youth Ministry that focuses on empowering and equipping its youth to be leaders in their communities. It also has a Gender Justice Ministry which promotes gender equality and creates a safe and inclusive environment for all genders where everyone is treated with respect and dignity. The Ecclesiastical Church Court incorporates gender justice into its family law, and the Diaconal Center provides counseling, support, and community events to build a healthy and sustainable community.
The ELCJHL works in partnership with Lutheran Churches, ecumenical, and interfaith partners around the world to promote understanding and respect between different faiths and cultures.
Partnership with

Faith to Action Network
The ELCJHL is partnering with Faith to Action Network to implement the Young Women for Awareness, Agency, Advocacy, and Accountability program (YW4A) program in Palestine. Specifically, ELCJHL is implementing pathway 3 of the program which seeks to transform the social norms and practices of faith-based organizations by engaging Shari'a and Ecclesiastic court judges and faith-based women's rights champions. ELCJHL has developed advocacy material on Ecclesiastical and Sharia Family laws, developed short videos on ELCJHL reformed Lutheran family law, and female leadership in the church as well as organized workshops, safe dialogue sessions, and annual conferences on gender justice from national and religious perspectives. Find the videos here: https://www.youtube.com/@ELCJHL/videos
A
highlight of ECLJHL success stories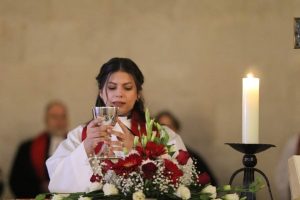 Rev. Azar's ordination: The ELCJHL celebrated a historic moment in the first quarter of 2023 with the ordination of the first female Palestinian pastor, Rev Sally Azar. Rev Azar's ordination reflects the church's commitment to promoting gender equality, and her story is a testament to determination, perseverance, and strong faith. This achievement marks a significant step towards creating a more just and equitable society where everyone is given the chance to realize their full potential and contribute to the common good. Rev Azar's ordination has given hope and motivated women everywhere and serves as a constant reminder of the vital role women play in leadership and ministry.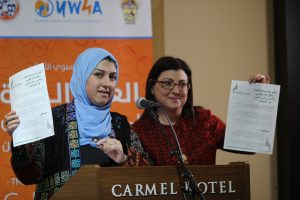 Al-Hakimat Council: A major outcome of the YW4A activities was the creation of the interfaith advisory group Al-Hakimat Council, which is a Palestinian initiative founded by Justice Somoud al-Damiri and Judge Scarlet Bishara to promote gender justice and equality. The cou brings together scholars, activists, and experts from various fields to work towards a more equitable society. With the support of the ELCJHL, the council has become an influential force in the fight for gender equality in Palestine. The ELCJHL recognizes the importance of supporting initiatives that align with its mission to promote justice and equality for all. The partnership between the ELCJHL and the Al-Hakimat Council highlights the power of joint efforts towards a common goal and serves as a testament to the church's dedication to promoting interfaith dialogue and cooperation. The success of the Al-Hakimat Council is a reminder that change is possible, and that together, we can make a difference.
ELCJHL Goal for 2023
ELCJHL focus for this year is to continue promoting gender equality and justice within the church and society. We are aware of the challenges and obstacles we face, but we remain committed to our goals. We plan on organizing more events and workshops, producing advocacy materials, and collaborating with other local and international organizations and ministries. We will also focus more on youth, recognizing their unique perspectives and contributions in the fight for gender equality and justice. We aim to create more opportunities for youth to participate in our events and workshops, as well as provide them with resources and support to become leaders in their own communities. By empowering and uplifting the voices of young people, we believe we can make even greater strides towards a more equitable and just society for all. Additionally, we are considering expanding our outreach efforts to engage with a wider range of communities and raise awareness about the importance of gender equality. It is crucial that we continue to advocate for gender justice and work towards a more equitable and just society.
Follow ELCJHL on the following communications platforms: